June 20, 2010
With the soccer fever catching up and South Africa being in the limelight, I thought of learning more about the Rainbow Nation. I started with Wikipedia and ended up with watching movie Invictus. I know mainstream commercial movies are not always the best way of learning about a country or a person, but movies can be fairly informative if historical information is not misrepresented. The good thing about Invictus was that it represented most of the historical facts accurately, as the movie critiques pointed out (although vuvuzelas were missing in the stadium scenes).
Invictus is a story of Nelson Mandela and his efforts to unify the nation with the help of Rugby, the sport which was played majorly by the white South Africans or Afrikaaners as they were called (speaking Afrikaan langauge) .Thereby their team Springboks was hated by the black South Africans, infact during the games, they cheered for opposing teams. Also, it was clear that none of Rugby followers or players voted for Nelson Mandela in the country's first democratic universal elections in 1994. After Nelson Mandela's party came to power, black leaders and sports authority wanted to totally change the structure of Springboks team including the name, color and anthem, which according to them represented hatred and oppression during the apartheid era. They almost did it, but Nelson Mandela opposed their views and stepped in and stopped any changes. He saw this as an opportunity to win trust of white Afrikaners, who loved the game. He wanted to build a unified South Africa, a rainbow nation, and supporting Rugby and asking the whole nation to rally behind the team was one of his approaches of reconciliation between blacks and whites. It took effort but the nation building process was started and South Africa ended up winning the Rugby World Cup in 1995 and brought much needed reconciliation.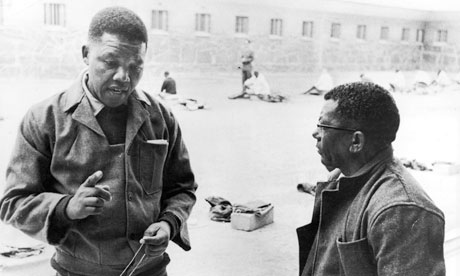 I am always amazed reading or watching stories about great visionaries and leaders such as Gandhi and Mandela. Their focus, determination, willpower, courage, patience and dedication for the cause mesmerizes me. These are the men of their principles who defy all adversities. While today's leaders follow partisan and popularistic politics, these leaders were not afraid of opposing their own followers and supporters if it was against their ideals. Wish today's leaders had even a fraction of these ideals. Gandhi and Mandela both were leaders and politicians who looked at the bigger picture rather than short term gains or benefits. Who else would have thought and worked on the idea that Rugby can unite the country torn with racial discrimination since years? Who else would have thought that fasting and adopting non-violence means could instill fears in hearts and minds of British colonial rulers. They also took criticisms well and accepted their mistakes when they were wrong and instead of pointing fingers at others they worked on to rectify it. Mandela was criticized for not handling AIDS epidemic during his tenure and since then until now he has been constantly working for the cause, probably realizing that he overlooked the problem and now rectifying it. Even at this fragile age of 92, he keeps doing his part, though he has retired from public life to spend more time with his family. He was very happy when FIFA 2010 world cup was announced to be hosted in South Africa but unfortunately he was unable to cherish the moment as his 13 year old great grand-daughter died just a day before the event started after she met a fatal accident when a drunk driver hit her. She was returning from FIFA 2010 kick-off concert. Sad turn of events for him and his family, which has been a recurrent feature in his personal life.

I learnt a few things about South Africa while watching the movie Invictus.
The country had two national Anthems from 1995-1997– Die Stem van Suid-Afrika (The call of South Africa) and Nkosi Sikelel' iAfrika (God Bless Africa) in order to assimilate both black and white groups . In 1997, an unified or hybrid version was adapted combining both the anthems and employing 5 major languages of South Africa in the lyrics.
Nelson Mandela is affectionately called Madiba in South Africa, which is his clan name.

In the movie, they show the cell where he spent first 18 years of his 27 years in prison (Robben Island). The cell is the exact cell where he spent those years and one of the best moments in the movie

(picture of the cell shown below)

It makes you wonder how a man who spent those many years of his lives in that tiny cell and did rigorous labor during the day had the strength to come back and lead the nation; what kept him going? Salute to Nelson Mandela, you inspire me and many others all over the world.

Gandhi, Mandela, Martin Luther King were all Invictus, the unconquered ones, and they were the masters of their souls. The poem "Invictus" by William Henley probably describes very well the struggles of such souls amongst all the obstacles, still emerging victorious.
Out of the night that covers me,
Black as the pit from pole to pole,
I thank whatever gods may be
For my unconquerable soul.
In the fell clutch of circumstance
I have not winced nor cried aloud.
Under the bludgeonings of chance
My head is bloody, but unbowed.
Beyond this place of wrath and tears
Looms but the Horror of the shade,
And yet the menace of the years
Finds and shall find me unafraid.
It matters not how strait the gait,
How charged with punishments the scroll,
I am the master of my fate:
I am the captain of my soul.
Picture Credit: Top image-Madame Tussauds Wax museum, Amsterdam by Flickr user Berto Garcia

Second image from Boston.com/bigpicture during FIFA 2010 by REUTERS/Jorge Silva
Third image: Young Mandela in Robben Island Prison by Guardian UK

Last image by Flickr user Paul Mannix. Used under creative Commons License.
Filed under: Social Issues,Trivia