July 7, 2010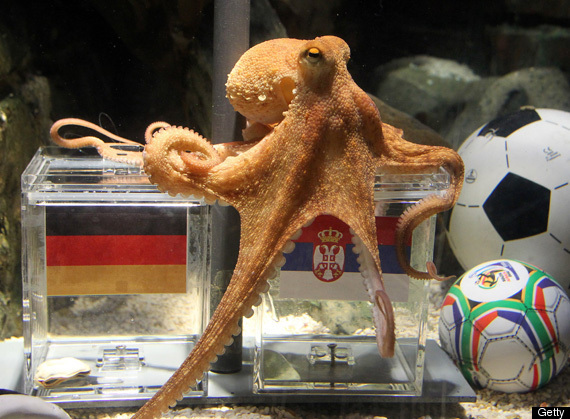 Final Update: Paul maintained his 100% success rate predicting winners  this worldcup.  It predicted successfully all the Germany games and also the Spain-Netherlands final game. Paul's final record stands at 8-0 this worldcup while 12-2 overall. Impressive!! He even got a wiki page now, go checkout if interested.

Latest Update : Paul has picked Spain to win the finals and Germany to win the third spot [CNN].  Also he is safe and sound and not only him but also some of his buddies are safe, atleast for few days. Famous Spanish chef José Andrés will not be serving any octopus dishes in his menu in all his restaurants until further notice [Washington Post].
Updates after Germany-Spain game:Paul, The Octopus was right, yet again!! Germany lost the game and Spain is in the Worldcup finals to play Netherlands on sunday. I was rooting for Germany, but the better team won today. Also, it will be a great final as neither of the teams have won the world cup before. So, Go Spain, Go Netherlands!! Paul's record now stands at 6-0 for this world-cup while 10-2 overall.
—————————————————————————————————————————————–
With the Germany-Spain Semifinal game minutes away, let me right this quick post about Paul, The Octopus. Some of you might have already heard about Paul, if not then you heard it here! Paul is a German Octopus (born in Britain) and this FIFA WorldCup, he has been predicting the winner of the games in which Germany plays and until now he has been 5-0 predicting the correct winner. For the semi-final game today, much to the dismay of German fans he has picked Spain as the winner, so lets see how the prediction of Paul goes this time. I bet Paul's prophecy is going to be wrong this time. Last time it predicted German loss in this world cup, Germany did lose to Serbia. But it's not like Paul has never been wrong in it's business of predictions, his overall record is 9-2 and last time he predicted a wrong winner was prior to the worldcup and in that match Germany was playing Spain (coincidence), European championships 2008. Paul predicted German win but Spain won. Well, To err is human, I meant animal.
How does Paul predict the winner- He is shown two boxes containing delicious snacks and the boxes have the country flags labeled on it as shown in the picture above and video here. For today's game, he hovered around the box with the German flag for a while but ultimately ended up picking the Spain box. When Paul predicted German win over favored Argentina, the fans from Argentina vowed to eat him.. lets see what happens to Paul by the end of this WorldCup. Go Germany!! You might also like to read 10 things you dont know about Paul, the psychic octopus.
Picture credit: Huffington Post
Filed under: Sports