June 23, 2010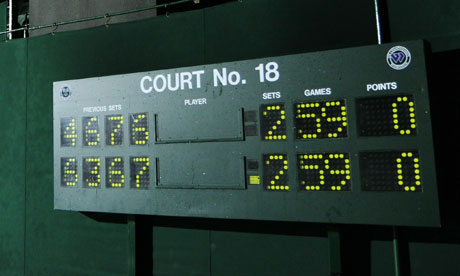 4-6, 6-3, 7-6 (7), 6-7 (3), 59-59  70-68  Isner Beats Mahut. (Updated)
That's the score of just concluded  Tennis match in Wimbledon between 19th ranked Isner and 148th ranked Mahut . One fine Tuesday afternoon, June 22nd, Isner and Mahut started playing their first round Wimbledon match. Nobody knew that the match was going to break all sorts of records in Grand Slam tennis history. When the match started, BP was still able to collect some of the gushing oil, Gen S McChrystal was still incharge of Afghansitan operations and federal six month ban on offshore drilling was still on. Since then, BP lost the cap which was containing the flow and oil is gushing at a rate it never did before, McChrystal lost his job after he gave an interview to Rollingstone full of unwanted remarks about president and his office, and a District Judge lifted the federal ban on offshore drilling (interestingly the judge had invested heavily in oil companies including the TransOcean rig). And not to forget, USA advanced to next round of FIFA world cup after defeating Algeria in last minutes of the game.
So lots have changed, but the game between Isner and Mahut seems to be never-ending. The game started on June 22nd and they played first 4 sets and then they were forced to postpone the game to next day due to lack of light. The score read 6-4, 3-6, 6-7 (7), 7-6 (3). They started again on Wednesday afternoon , roughly about 2 PM. They played back and forth in the fifth set and the IBM scoreboard read like 10-10, 20-20, 30-30, 40-40 until it reached 47-47, when it froze. When crowd roared "Lets go Scorebord" it came back to life but not for long; ultimately the scoreboard was dead and gave up a few games later. But not the players, they played continuously without any calls for trainers or bathroom breaks- straight for seven hours. After seven hours of marathon set, the players took their first bathroom break when score read 58-58, much to the relief of match officials who needed break. The game has been postponed for Thursday due to bad light as of now and the score in the final set is 59-59 and no one is willing to give up!
The game has already broken many records. Duration of previous longest Tennis match was 6 hours 33 minutes between Fabrice Santoro and Arnaud Clement in the 2004 French Open. In this match, fifth set itself has been played for more than seven hours, while total duration of the game has been 10 hours and it is not finished yet! Another record broken is the number of aces in one single match. In this game a total of 193 aces (Isner- 98, Mahut-95) have been hit by both breaking previous record of 96 aces set last year. Infact, each of them individually has passed that record. Other records broken are maximum number of games- 193 and maximum number of points- 881 in a single match. And ofcourse the IBM scoreboard. Kudos to the endurance of both the players! We will come to know who won tomorrow, or will we?
Updates: Yes the marathon game has ended and John Isner finally won the game with a score of 70-68 in the final set. The record time for the entire match now stands at 11 hours and 5 minutes. The last set itself  ran for 8 hours and 11 minutes. Total number of aces -215 ( Isner-112, Mahut-103). Total points won- 980. For more stats visit Official Wimbledon site. 
Some comments from other Tennis players about the game:
Roger Federer: "In a way, I wish I was them; in some ways I wish I wasn't them. This is a very special match. I hope somehow this is going to end."
"It's a marathon," said Venus Williams, then corrected herself: "It's longer than a marathon."
"It makes me proud to be a tennis player," said John McEnroe, working the BBC broadcast, after the 111th game. "It looks like Isner is about to fall over."
Mahut "We are just fighting like we never did before, he's a champ. The crowd is amazing and fantastic, they all want to see the end, but they'll have to come back tomorrow. Mentally we played too long, but you just want the game you're playing."
Isner "Nothing like this will ever happen again, ever, we're both serving fantastic but we both couldn't agree to keep playing so it got cancelled."
Picture credit: Guardian UK

Filed under: Sports